First set of Agile India 2023 keynote speakers announced
January 23, 2023
• 0 Comment
It's now less than 2 months until Agile India 2023 kicks off in-person in Bangalore. We're pleased to announce Amy Jo Kim, Dr. Anita Sengupta, Bjarte Bogsnes and Fred George as the first set of keynote speakers. We also have the first group of confirmed speakers. They represent an exciting mix of perspectives on Agile, Design Thinking, DevEx, DevOps, SRE and cutting edge product engineering practices from well-known thought leaders, authors and organisational change management experts and even a rocket scientist!
When: 16-18 March 2023
Where: Sheraton Grand Hotel Bengaluru, India
Workshops on 15 & 19 March to be announced
Keynote sessions to inspire you
Building High-Retention Products and Platforms
Amy Jo Kim – CEO @ Game Thinking Academy

As we head into the third year of a global pandemic – facing economic & political uncertainty, customer retention is becoming a huge challenge. Retention has replaced growth as a north-star metric. In this keynote you'll hear real-world stories and take away 3 key tips for building high-retention product/platforms.

Amy Jo Kim is a game designer, community architect & startup coach who's worked on Rock Band, The Sims, eBay, Netflix, Cover Fashion, indiegogo, nytimes.com, Ultima Online, Happify, and numerous startups.
Red Mars, Green Mars, Blue Mars: How the Space Program Creates Sustainable Technology
Dr. Anita Sengupta – Professor of Astronautical Engineering & CEO @ Hydroplane Ltd

Explore how space technology and design philosophy can serve to mitigate climate change here at home.

Dr. Anita Sengupta is an aerospace engineer, rocket scientist, professor, commercial pilot, and executive, who has developed technologies that have enabled the exploration of Mars, asteroids, and deep space for 22 years.
Sabotaging a Transformation: The Myriad of Ways an Organization Inhibits Transformation
Fred George – Father of Programmer Anarchy

Transformations are difficult, and often simply fail. The underlying causes vary from ignorance on how to transform, to full and hostile resistance. In his keynote, Fred will discuss the various causes and the strategies he has used as an outside consultant to overcome (or at least mitigate) this resistance to change, and create meaningful transformations with his clients.

Fred is an active industry consultant, advocate of Programmer Anarchy (flat management structures) and has been writing code for nearly 50 years in (by his count) over 75 languages.
Agile Transformation and the Elephant in the Room
Bjarte Bogsnes – Pioneer of Beyond Budgeting

Over 30 years Bjarte has helped numerous companies around the globe to get started on a Beyond Budgeting journey. He also wrote the highly regarded book: "Implementing Beyond Budgeting – Unlocking the Performance Potential"

Explore the problems with traditional management and learn how the 12 principles of Beyond Budgeting could help your organisation.

What to expect from this conference
Spread over 3 days with keynotes and 65+ sessions, the conference is jam-packed with content that will extend your knowledge and equip you with new skills to work smarter. If you want to stay up-to-date with cutting-edge product engineering techniques, whether you're just getting started or have been in the game for a while, this conference is for you! You'll find talks on the following areas:
| | | |
| --- | --- | --- |
| Agile Mindset | Business Agility | Design Innovation |
| DevEx & DevOps | Productivity | Personal Growth |
Why you should attend Agile India 2023 (video)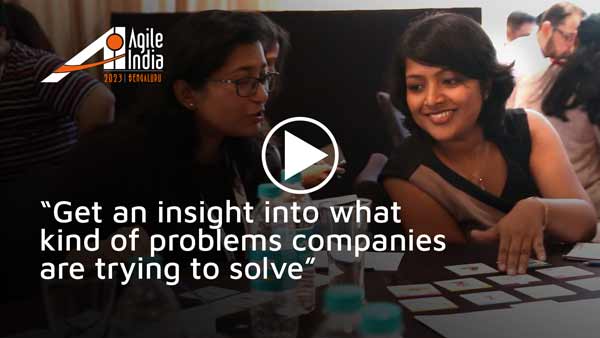 What people are saying about the conference
"The wealth of knowledge and thought leadership that you're going to see here, it's the best in Asia and it's one of the best international conferences to attend."
"It's vendor neutral and it's technology agnostic. Get an insight into what kind of challenges different companies are trying to solve. How did they sort of go about solving those problems?"
"Whether you're talking about maybe the DevOps side of it, whether it is feature toggles, CI/CD, maybe test automation and product discovery, user experience, you have a lot of talented folks who are here as speakers."
"It gives you an opportunity to think from different perspectives. Network with people, come out of your comfort zone and see what other people are doing."
Register now for Agile India 2023 so you don't miss out on 65+ inspiring sessions by thought leaders and innovative practitioners from more than 15 countries. Be inspired with better ways to build better products and connect with others in the software development community. Prices will go up soon. Act now to lock in savings of 40%. Hope to see you there in Bangalore!